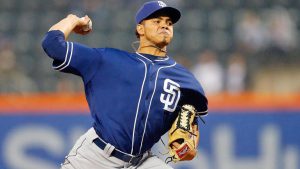 Here is our daily list of  hitters and pitchers to stream for Wednesday September 13th 2017.
Pitchers
Dinelson Lamet, Padres: Lamet has been a value stream all season long, especially at home. He has three straight quality starts under his belt and is pitching at Target Field, one of the friendliest pitcher parks in baseball. He is a must start tonight.
Dan Straily, Marlins: Straily has run hot and cold for the Marlins this season but when he is on, he's on. He has a favorable road match-up against the free swinging Phillies tonight. If nothing else, he will give you five to six innings and pick up five to six strikeouts.
Lucas Giolito, White Sox: Giolito is a strikeout guy pure and simple. Sure, he might give up three runs, plus but he will also rack up 8-10 strikeouts. He is an ideal stream if you are trailing in your matchup and need a spot start.
Hitters
Mitch Moreland, Red Sox: I love Mitchy Two Bags against Jharel Cotton of the A's tonight. Moreland has hit 17 of his 18 home runs against right handed pitching and has mastered the art of going the other way against the monster.
Ian Happ, Cubs: Happ is available in more than half the leagues out there. If he was an every day player, he would not be a free agent. Alas he is so grab him and get in him in your line up at either second base or in the outfield.
Howie Kendrick, Nationals: Kendrick is getting squeezed for playing in our nation's capital but he offers position versatility and power.
Justin Bour, Marlins: Bour is still available in 60% of the leagues in ESPN, CBS and Yahoo. How is that possible? If you are in the playoffs and need a power bat in your line up, grab Bour if he is available.